Good evening all..well after deliberating I settled on making the Mitchell cubbies instead of my console table for the dining area. I have some cabinet grade plywood that I can use for a portion of it so the cost is minimal. Here is what it will look like when done

...
Mine will be 5 cubbies wide to fit under the dining room window and I am thinking of using a stencil and chalkboard paint to mimic the label holders. I cut the lumber to size today and hope to start assembling it tomorrow.
Then I had to paint, I have a few orders for signs and I need to fulfill the orders before we head out of state for a week to pick up some machinery we sold and we need to deliver it to the buyer. For those that don't know yet, I paint custom signs for folks. I started by painting vintage type signs and it expanded to custom orders. Here are some of my signs I have painted.
If you would like to see tons more signs go to my website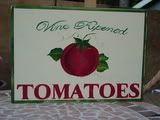 One day soon I will share my studio construction photos. I love my creative space and will be glad to share.
I am tired tonight so I am headed for a hot tub and some relaxing.
Until next time...Pam