You may have noticed I have been absent a few days...it has been a long week. We buried my baby nephew today. Something I never could have imagined and a sorrow that is indescribable. Little Evan Daniel was born asleep after losing his battle against a rare disorder called Hydrop Fetalis. We were all looking forward to this new addition to our family.
I confess to being a very doting Auntie and a new baby to snuggle was something I couldn't wait for. I enjoy my nephews as if they were my own. They are too adorable to be anything but pure joy.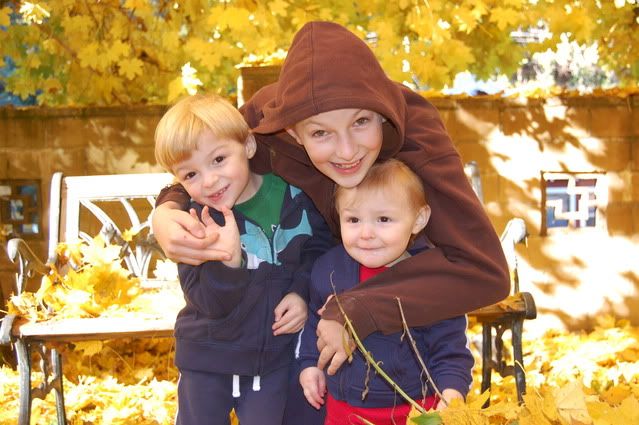 AJ is 12, the oldest of the troop, Jackson is 3 and Cayden will be 18mos this month. How can you not love those faces...
We have spent a lot of time together the past few months, especially while mommy was so much at the hospital trying to get help for Baby Evan, so we have gotten even closer.
The day was warm and sunny, making it a pleasure to be outside despite the circumstances of why. The family gathered at my cousins house afterward for a meal and some visiting. We have a close family, always there for each other when the need arises. Though we never got to meet Evan Daniel he was already a part of the family. We buried him next to his Grandpa (my dad) who passed away 2 years ago this past November.
I know I am rambling here but my brain is all worn out. Tomorrow we leave for Idaho to pick up some equipment we have sold. A nice road trip will be a good thing. Though I hear our house there is being overrun with MICE. So I will have a ton of cleaning to do but in between I will be catching you all up on things I have been working on or stuff I just want to share.
Until we meet again. Au Revoir