I have been a painting fool again today. I have more sign orders to fill and I am trying to keep my nose to the grindstone and keep up with them. But in between coats of paint I have been working on my bench.
This is my inspiration..
I had shared this in my
Take a Seat Post
Since I cannot really see the sides or back I am winging it to the best of my ability. And I am using materials I have on hand so it is a bit of a challenge. But here goes nothing…
I started with these blanks, I had my husband cut the sheets of plywood to 48" x 18". I did not know how tall I as going to make the bench but knew it had to be under 48".
Then I eyed the above photo of the bench and used different sized circles (like a paint can lid, styrofoam plate and a big clock face blank) to work out the curves. I clamped it to my worktable I built (love this thing)and started up my jigsaw.
It was messy but we got the job done. I prefer doing the sawing outside because of all the sawdust flying everywhere but it was raining today. Soon I had this..
I gave the back a slight angle and the back piece will sit on that little ledge. So far I think I am going to like it and from here on out it should be fairly straight forward. (I hope)
On another note, here are two of the signs I was finishing up today.
I am really liking this Antiques sign.. I may have to make another.
Well, I am done in for today. Tomorrow I have errands to run and my hair to get trimmed so I doubt I will get any painting done or get to work on my bench.
Enjoy your evening.
Farm Girl Friday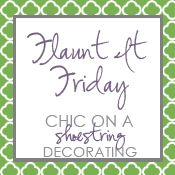 http://tidymom.net/