Today is supposed to be my dig in and clean day and though I do have the laundry going that has basically been it for cleaning. I had phone calls to make and phones came in, all of which has eaten up my time this morning. So the cleaning must wait. Right now I am just killing time until my husband drives in for his lunch. Ahh, here he is so I will come back when he is fed and sent back off to cut trees…
Okay, he has been fed and now is back to work.
Last week I gave you a sneak peak of my attempt at food photography and I promised the recipe. I only did a few photos to practice with. Here we go…teaser photo. This is my world famous (okay, it is only famous with my friends) broccoli salad.
I start with broccoli florets, I really like getting the big bag from Costco but had not been there in awhile so I had to get a couple heads at the local grocery. The roasted, salted sunflower seeds are missing in the photo below but I remembered them in the salad as you can see in the photo above.
I normally use raisins in the recipe but I was out so we subbed Craisins, this was the first time and I have to say it was very good. I like a high quality thick cut bacon, this is Fletchers Masterpiece Dry Cured bacon from Costco and cook it till it is crispy and crumbly, I start it in the microwave to get a lot of the fat off of it and finish it off in a frying pan.
The recipe is quite easy, you chop all the veggies, cook the bacon till crispy and add the seeds and raisins, toss with the dressing until well covered. The dressing is super easy, you just blend the mayo, sugar and red wine vinegar together. I use my hand blender which whips it right up.
You can serve immediately but it does develop more flavor if you let it sweat in the refrigerator for an hour. I have seen this recipe made with seedless red grapes or a small can of drained mandarin oranges in place of the raisins, and pecans or walnuts in place of the sunflower seeds. There is quite a few variations so give them a try and see which is your favorite!
If I missed anything or you have an questions just drop me a comment and I will gladly reply.
Recipe:
My broccoli salad I make by sight so I will guess at measurements for you.
Approx. 8 cups of raw broccoli florets (I like the big bags at Costco that are all ready to go I think Cost U Less has them too fairly reasonable,or a couple of big stalks are about right)
3- 4 green onions diced (you can also use red onion instead but I prefer the green)
1/4 – 1/2 cup raisins (you decide if you like more or less)
1/3 cup sunflower seeds (walnuts, pecans can be used as substitutes)
5-6 pieces of bacon cooked till very crisp then crumbled (of the thick cut I usually go with 4)
1 stalk of celery diced (optional)
Dressing:
3/4 cup mayonaise
1/4 cup red wine vinegar
1/4 cup of sugar
Blended together then poured over all the other ingredients. Really stir to coat all the broccoli, needs to be stirred as you serve it also.
Let me know if any of you try it and what you think!
Enjoy!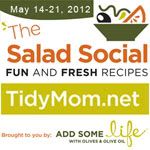 "Come join The Salad Social at
TidyMom sponsored by The International Olive Council's Add Some Life" in your blog post